Featured...
L-Glutamine

Pure L-Glutamine amino acid powder Glutamine is one of the 2...
---
Candida Cleanse

An all-in-one yeast balance and Candida Cleanse SPOREgone is...
---
HOME >> Organic Health Supplements
Supreme Antioxidant Power with Acai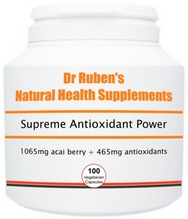 enlarge image
Concentrated acai berry powder PLUS 3 added antioxidants - a powerhouse combination you won't find anywhere else!
Acai Berry Supreme is our high potency acai berry formulation - 1065mg PLUS 465mg antioxidants per capsule!
We have added 3 other hand-picked ingredients to our already incredible Acai Berry - 1000mg for extra antioxidant power -
resveratrol, grape seed extract and pomegranate
!
Acai berries are considered to be a superfruit (it was Nicholas Perricone MD who announced acai berries to be one of the top 10 superfoods of the world), because they are rich in antioxidants and other important nutrients, such as potassium, iron, vitamins B, C and E and essential fatty acids. In fact, pure acai berries have
15-20 times the antioxidants (anthocyanins) that red grapes have

!
Anthocyanins are an incredibly powerful antioxidant derived from the same essence that gives acai berries their amazingly deep purple colouring.
In capsule form, the goodness of these berries can very easily be incorporated into your daily diet plan. Their nutrients have been found by many to be useful for supporting:
energy levels
slimming and weight loss
athletes
the heart
the immune system
general health and well-being
healthy cholesterol levels
stable blood sugar levels (suitable for diabetics).
100 vegetable cellulose capsules per pot


PER 1 VEGE CAPSULE:
Acai berry powder (Freeze-dried) - 465mg
Vegetable cellulose capsule - 90mg
Acai berry extract 10:1 (Equivalent to 600mg fresh acai berry powder) - 60mg
Resveratrol - 25mg
Grape seed extract 10:1 (Equivalent to 200mg fresh grapeseed powder) - 20mg
Pomegranate extract 12:1 (Equivalent to 240g fresh pomegranate powder) - 20mg


Contains no added: sugar, salt, preservatives, excipients, wheat, gluten, lactose, dairy, colours, fillers or flavours
Suitable for vegetarians and vegans

Take 1 capsule, 2 - 3 times per day, with our without food or as advised by your health practitioner.