Featured...
L-Glutamine

Pure L-Glutamine amino acid powder Glutamine is one of the 2...
---
Candida Cleanse

An all-in-one yeast balance and Candida Cleanse SPOREgone is...
---
HOME >> Organic Health Supplements
liver and gall bladder Cleanse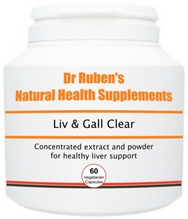 enlarge image
Liver and gallbladder support
We are continually exposed to toxins - in the air we breath, in the water we drink and bathe in and in the food we eat.
Our bodies are constantly trying to remove these toxins through our detoxification systems. The primary detox organ in the body is the liver, vital for cleansing the blood of impurities and keeping the body working well - it performs
over 500 vital functions
, including:
providing immunity against infection
regulating blood clotting
excreting wastes via bile
cleaning blood of toxins and chemicals
acting as a factory for proteins and cholesterol
converting excess glucose to starch
excreting bile for fat digestion.
Every toxin we are exposed to (whether eaten, inhaled or absorbed) arrives at the liver. Such toxins include metabolic end products, micro-organisms, contaminants, pollutants, insecticides, pesticides, food additives, drugs and alcohol. Working with the body's other detoxification systems, the liver converts these toxins into a form more easily excreted.
The liver works in harmony with the body's other detox organs
Waste products are eliminated from the body via the:
gallbladder

: using bile and bowel actions

skin

: through sweat

kidneys

: through urine.
If one of the body's detox systems is over-burdened, this also places strain on the other systems, which include the digestive system, urinary system, lymphatic system, lungs and skin.
Liv & Gall Clear contains 14 hand-picked active ingredients for full spectrum support of the liver and gallbladder
Features
An all-in-one liver and gallbladder cleanser

A protective food based formula

Liv & Gall Clear is a specific combination for supporting these two important organs

Contains 14 active ingredients

60 vegetable cellulose capsules per pot


PER 1 VEGE CAPSULE:
Artichoke extract 40:1 (Equivalent to 4800mg of fresh artichoke) - 120mg
Vegetable cellulose capsule - 90mg
Beetroot powder - 80mg
Burdock root extract 4:1 (Equivalent to 160mg of fresh burdock root) - 40mg
Cayenne fruit powder - 30mg
Fennel seeds powder - 30mg
Beetroot extract (0.3%) - 20mg
Dandelion root extract 5:1 (Equivalent to 100mg of fresh dandelion root powder - 3% Vitexin) - 20mg
Liquorice root extract 4:1 (Equivalent to 80mg of fresh liquorice) - 20mg
N-Acetyl L-Cysteine - 20mg
Parsley piert extract 5:1 (Equivalent to 100mg of fresh parsley piert) - 20mg
Alpha lipoic acid - 10mg
Turmeric extract 10:1 (Equivalent to 50mg of fresh turmeric powder - 95% Curcumin) - 5mg
Garlic powder extract (10000mg/g) - 5mg
Ginger root powder - 5mg


Size 0 vegetable cellulose capsules
Contains no: excipients, gluten, wheat, lactose, added sugar, additives, artificial colourings or yeast
Suitable for vegetarians.

Take 1 - 2 capsules, 3 times per day with food or as required.

Not to be taken during pregnancy or breast-feeding. Not to be taken with medication.