Featured...
L-Glutamine

Pure L-Glutamine amino acid powder Glutamine is one of the 2...
---
Candida Cleanse

An all-in-one yeast balance and Candida Cleanse SPOREgone is...
---
HOME >> Organic Health Supplements
Thermothin weight management formula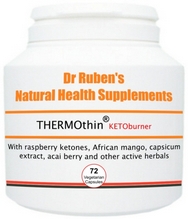 enlarge image
Weight management formula and herbal fat burner - SHAPE, CLEANSE, NOURISH!

THERMOthin® (also know as THERMO Slim UK®) is a comprehensive weight management solution, formulated in line with the latest research in shape technology.

The ideal supplement when exercise is just not enough!

NEW version -

KETOburner!

The already powerful THERMOthin combination (with

capsicum, L-Tyrosine, guarana, acai berry, green tea and more)

has been updated and improved and

now also includes

raspberry ketones, African mango and cinnamon

- three well-documented weight management ingredients that work in harmony with all the other included actives for gentle fat burning actions.

This herbal fat metaboliser even includes

apple cider vinegar powder

- apple cider vinegar is well-known for its role in weight management, as well as digestion support.

THERMOthin is therefore a comprehensive and effective weight management solution to help you achieve your "get into shape" goals, when used in conjunction with a calorie-controlled diet and exercise regime - the best solution for long term weight loss results!

More about the ingredients...

African mango:

This type of mango is a rare fruit found in the rainforests of West Africa. It has become a popular ingredient in weight loss and healthy weight management supplements due to the presence of an extract from the fruit called

irvingia gabonensis

. However, the mangos are also valued for fat and protein rich nuts.

Green tea: Camellia thea

,

or green tea

is a rich source of potent polyphenols - active compounds that may have beneficial health properties. Some studies have shown green tea polyphenols to have a stronger antioxidant action than vitamins C and E - two of the most powerful antioxidants.

Acai berries: Widely regarded as superfruits,

acai berries

are rich in

antioxidants

and other important nutrients, such as potassium,

iron

, vitamins B, C and E and

essential fatty acids

. In fact, pure acai berries have 15-20 times the antioxidants (anthocyanins) that red grapes have! They also contain a near-perfect form of protein.

Capsicum: Also known as red pepper, chillies, cayenne and

Capsicum minimum

in Latin, capsicum are bright red dried ripe pods. The powder is known as cayenne pepper. Regarded by professional herbalists as the purest and safest stimulating herb known.

Cinnamon: A spice obtained from the inner bark of several trees from the genus Cinnamomum

, cinnamon may support a healthy metabolism, stable blood sugar levels and healthy cholesterol levels.

L-Tyrosine:

An amino acid and a precursor of several important neurotransmitters, including l-dopa, dopamine, norepinephrine, and epinephrine, L-tyrosine is also a precursor to the thyroid hormone, thyroxine (also known as T4).

Guarana:

A herb that grows in the Brazilian Amazon rainforest, guarana contains significant amounts of guaranine (the active constituent that is virtually identical to caffeine).

Caffeine anhydrous:

A natural stimulant found in many foods such as tea, coffee, cola and chocolate, used to
support energy levels and a healthy metabolism.

Citrus Aurantium:

Bitter orange contains the amphetamine metabolites N-methyltyramine, octopamine and synephrine - substances which are similar to ephedrine.

Raspberry ketones:

Raspberries, long recognised as a healthy fruit, have a molecular structure that is similar to the structure of capsaicin, a component of capsicum. Raspberries ketones are natural compounds found in these berries, which may support fat breakdown in the body as part of a calorie-controlled diet.

Siberian ginseng:

Eleutherococcus senticosus

, or Siberian ginseng, has been used for health purposes for hundreds of years in the East, most particularly in China and Russia. Not to be confused with American ginseng (

Panax quinquefolius

) and Asian ginseng (

Panax ginseng

), Siberian ginseng contains active compounds called eleutherosides.

Kelp:

Kelp is a type of

large brown seaweed (algae) - a

natural food that is very low in cholesterol and is a good source of dietary fibre, riboflavin,

vitamin C

, vitamin K, pantothenic acid, zinc, copper, folate, calcium, iron, magnesium and manganese.

Vitamin B6:

An essential vitamin r

equired

for blood and haemoglobin formation; calcium and magnesium metabolism; conversion of glycogen to glucose (to be used as energy); energy production; metabolism of foods (protein, carbohydrates and fats); and zinc absorption.

Apple cider vinegar:

This has been added to support digestion and internal cleansing. Apple cider vinegar has long been recognised as a natural digestive and detox support agent.

Piperine:

Thought to increase the bioavailability of nutritional compounds, piperine has been included in this formula to help increase the actions and effectiveness of the other ingredients.

Chromium (picolinate):

An essential trace mineral that plays an important role in our bodies" normal carbohydrate
metabolism, which converts foods we eat into sugars. Chromium may help insulin (a natural hormone that is released in response to eating carbohydrates) to properly "transport" these sugars into cells to be stored as energy. It also supports stable blood sugar levels - crucial for slimmers as high and low spikes can lead to cravings, excessive hunger and binge eating.
Features


NEW KETOburner formula

with raspberry ketones, African mango and cinnamon PLUS all of the original ingredients!

A herbal fat metaboliser / fat burner formula to help you optimise the results of your slimming and training programmes

Contains a blend of active nutrients to support weight loss results, digestion and a healthy metabolism, including capsicum, acai berry powder, L-Tyrosine, green tea and guarana!

Suitable for vegetarians and vegans

Also known as Thermo Slim UK®






72 vegetable cellulose capsules per pot
PER 1 VEGE CAPSULE:
African Mango (from extract) - 300mg
Green Tea (from extract, 99% Poly.) - 250mg
Acai Berry (from extract) - 180mg
Capsicum (from extract) - 160mg
Cinnamon (from extract) - 100mg
Vegetable Cellulose Capsule - 90mg
L-Tyrosine (vege sourced) - 70mg
Guarana (from extract, 22% caffeine) - 60mg
Caffeine Anhydrous - 45mg
Citrus Aurantium powder - 45mg
Raspberry Ketones - 25mg
Siberian ginseng (from extract) - 25mg
Kelp (from extract) - 20mg
Vitamin B6 - 10mg
Apple Cider Vinegar powder - 8mg
Piperine (95%) - 2mg
Chromium Picolinate - 50mcg



Size 0 vegetable cellulose capsules


Suitable for vegetarians and vegans

Contains no: ephedra, gluten, excipients, wheat, lactose, added sugar, artificial colourings or yeast





Contains caffeine and other natural stimulants.

Not suitable for people who cannot tolerate caffeine or herbal stimulants.



Take 1 or 2 capsules, 3 times daily with water. Take on an empty stomach, 30 to 60 minutes before food or exercise. Take for 6 days in a row; no capsules on day 7.

First-time users:

Take only half the number of capsules for the first 4 days.

Contains caffeine and other natural stimulants.

Reduce intake or take with food if nausea, nervousness, or sleeplessness occur. Do not exceed stated recommended dose. A food supplement should not be used as a substitute for a varied diet. Long-term intakes of 60mg vitamin B6 may lead to mild tingling and numbness.

Consult your doctor before taking any food supplement or changing your daily diet.