Featured...
L-Glutamine

Pure L-Glutamine amino acid powder Glutamine is one of the 2...
---
Candida Cleanse

An all-in-one yeast balance and Candida Cleanse SPOREgone is...
---
HOME >> Organic Health Supplements
Multi-Flora complete Probiotics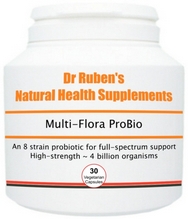 enlarge image
An 8 strain probiotic with 4 BILLION live bacteria per capsule to support a healthy gut!

Probiotics and probiotic supplements are also known as friendly bacteria or good bacteria. This is because they help to maintain a healthy gut and support a strong immune system.

If you want to increase your live friendly bowel bacteria intake by a fantastic

4 billion

, you can either eat 8 pots of probiotic yoghurt or take just 1 capsule of our Multi-Flora ProBio probiotic supplement - minus all the added sugar, dairy, fats and calories of yoghurt!

Multi-Flora ProBio can be taken during and following a course of antibiotics, when travelling abroad and to support a healthy balance of bacteria in the gut.

It provides the ideal environment for digestion and healthy bowel regularity and offers full spectrum support of the upper and lower bowel.

Guaranteed strength for 12 months from date of manufacture.

This probiotic has been specifically manufactured to be heat-resistant and, as such, does

not

require refrigeration, which makes it perfect for travel. It is also micro-encapsulated for acid-resistance and is able to withstand stomach acid, helping the friendly bacteria to reach the colon alive and in optimal condition.
Features


4 billion

living probiotic organisms per capsule!

Provides an

8 strain

spectrum of friendly lactic bacteria which should inhabit a healthy gut

Full spectrum support of both the small and large intestine

Contains mainly human strain probiotic bacteria (the best form)

Can be take during or following a course of antibiotics

Probiotic strength is guaranteed for 12 months

Does not require refrigeration - ideal for travel!

30 vegetable cellulose capsules per pot


PER 1 VEGE CAPSULE:
Capsule shell (cellulose)
Maltodextrin
Magnesium stearate


Probiotic bacteria
Bifidobacterium breve
Bifidobacterium infantis
Bifidobacterium longum
Lactobacillus acidophilus
Lactobacillus bulgaricus
Lactobacillus casei
Lactobacillus rhamnosus
Streptococcus thermophilus



If this 8 strain bacteria probiotic is taken alone (as opposed to in combination with other digestive health supplements), start off by taking a higher intake of 3 - 4 capsules, split up throughout the day with food for 2 - 4 weeks. Thereafter, reduce intake to 1 capsule taken 1 to 2 times per day.



Guaranteed to provide 4 billion live bacteria per capsule for up to 12 months
Contains human strain bacteria
Suitable for vegetarians
Size 0 vegetable cellulose capsules
In a base of maltodextrin


Included in each pot is a small food grade approved sachet to ensure the product remains unaffected by moisture after it is opened for use. As stated on the sachet, "do not eat".


No dairy
No wheat
No gluten
No yeast
No added sugar
No artificial colours
No artificial preservatives
No added calories