Featured...
L-Glutamine

Pure L-Glutamine amino acid powder Glutamine is one of the 2...
---
Candida Cleanse

An all-in-one yeast balance and Candida Cleanse SPOREgone is...
---
HOME >> Organic Health Supplements
Constipation Free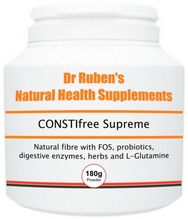 enlarge image
A dietary fibre based colon cleanser with psyllium husks, probiotics, prebiotics, digestive enzymes, herbs and L-Glutamine

As CONSTIfree contains a wide variety of natural nutrients (including psyllium husks powder,

L-Glutamine

, prebiotics, a probiotics culture and

digestive enzymes

), it is ideal for use as a high fibre bowel maintenance formula. Its beneficial actions include:

encouraging waste matter to pass through the body efficiently
assisting in tissue repair
aiding in the digestion of foods and the absorption of nutrients
supplying the bowel with both probiotics and prebiotics.

CONSTIfree supplies the bowel with soluble fibre from psyllium husks, which act as a bulking agent in the bowel. The fibre works like an internal "brush", sweeping waste and toxins down the bowel and out of the body.

This powder supplement is useful for people with low-fibre diets and those who experience "pellet like" stools and the feeling of non-evacuation.
Features


A natural solution for body waste cleanse!
Encourages regular bowel movements by providing natural fibre and friendly bacteria which work together to offer maximum colonic maintenance
A high fibre colon cleansing combination with psyllium husks powder, L-Glutamine, prebiotics, a probiotics culture and digestive enzymes
Helps your body to maintain its daily regularity

180g powder per pot


NOTE: CONSTIfree contains a minimum of 36 servings per tub, based on 5g servings.


PER 180g POT:
Psyllium husks
Fructo-Oligosaccharides (prebiotics)
L-Glutamine


Probiotic cultures
Lactobacillus acidophilus
Bifidobacterium bifidum


Digestive enzymes
Amylase
Cellulase
Caseine protease
Invertase
Phytase
Lipase
Penthosanase (Hemi cellulose)
Alpha galactosidase


Herbs
Fennel seed
Ginger root
Peppermint leaf


Suitable for vegetarians
Dairy free
Gluten free
Wheat free
Sugar free

Take 1 - 2 heaped teaspoons (approx. 5 - 10g) mixed in water, 1 - 2 times per day and 10 minutes before a meal.

Ideally follow this high dietary fibre colon cleanse powder with a glass of water (try to drink 250ml of liquid to every teaspoon of powder).

Best results are achieved when CONSTIfree is taken continuously for 2 - 3 months, together with improved eating habits.

NOTE:

Included in each pot is a small food grade approved sachet to ensure the product remains unaffected by moisture after it is opened for use. As stated on the sachet, "do not eat".